"I purchased a walking jacket last fall. I had tried several harnesses and collars for my cat. He would squirm out of everyone of them. Then I received the jacket. It is soft and it stays on. He hasn't been able to squirm out 1 time and doesn't even try now. This jacket has given me the freedom to take my cat outside. I use it for visits to the vet also."
The MetPet Walking JacketTM is the best cat harness available. Unlike conventional cat harnesses, the Walking Jacket is both physically safe and psychologically reassuring.
Lennie the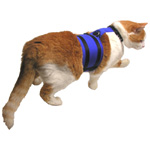 black cat is wearing a red soft-sided WalkingJacketTM. Peter the orange and white cat is wearing a blue hard-sided WalkingJacketTM.
A harness with thin straps that dig into your cat's body can cause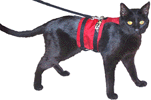 him to fear walking on leash. The MetPet WalkingJacketTM has wide 5/8" straps, curved plastic buckles and smooth fabric that curls gently around your cat. The patented MetPet.com Walking Jacket comes in both the classic soft sided version and the hard sided version.
Soft-Sided and Hard-Sided Walking Jackets for Cats

Walking JacketTM Soft-Sided in standard and large sizes.
Walking JacketTM Hard-Sided In standard size.

The HardSided Walking Jacket has a perforated plastic insert that fits around the body. The plastic is flexible enough to curl around and under your cat and stay perfectly comfortable. The HardSided Walking Jacket is about as stiff as the Elizabethan collars used to prevent cats from licking wounds and the jacket will be about twice the weight. Think of wearing a tall belt or rigid cummerbund around your midsection to get an idea of the HardSided Walking Jacket.

Every cat should have and know how to use a Walking JacketTM. Cats are notoriously slippery and difficult to hold on to when they are frightened or excited. The Walking JacketTM gives you extra holding power and safety for you and your cat.
How Do I Leash Walk My Cat?
Leash walking your cat is easy with the Walking Jacket and we'll show you how, just click here.

Please note that the Walking Jacket does not include a leash. A standard 6 foot long, 5/8 inch width nylon dog leash is usually the most comfortable to begin with.

Why Do I Need a Walking Jacket?

In addition to a jaunt around the block every evening or just sitting together on the lawn, the Walking JacketTM is great for:

- trips to the veterinarian
- additional safety inside a carrier while traveling (please store the leash separately)
- for the emergency kit
- vacations
- imprinting in a new home and neighborhood
- additional security when trimming nails or brushing teeth
- additional safety inside the car
- meeting new family members or neighbors
- trying out the new electronic fence
- meeting new cats, dogs and people
- any situation where extra restraint and safety are needed

Walking JacketTM Instructions

For more information on how the Walking Jacket works, see how-to instructions with illustrations. Every Walking Jacket comes with the same instructions.

A Walking JacketTM Tip

Use an interactive cat toy to keep your cat moving in the right direction, to get even more exercise and to provide a fun distraction while he's getting used to his new Walking Jacket.

Every MetPet WalkingJacketTM order comes with free cat toys. Your order comes ready to go with enticing MetPet toys to use before, during and after a jaunt around the neighborhood. They are free to your cat as a thank you for choosing the MetPet WalkingJacket. Of course, every MetPet order ships with a free gift.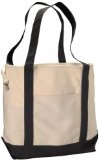 Walking your cat in unfamiliar territory? Try our tip for taking along a handy tote when walking with the Walking Jacket for cats.

Walking Jacket for Cats Options:
Walking Jacket Standard Red
Walking Jacket Standard Blue
Walking Jacket Standard Black
Walking Jacket Standard Purple
Walking Jacket Standard Forest Green

Walking Jacket Large Red
Walking Jacket Large Blue
Walking Jacket Large Black
Walking Jacket Large Purple
Walking Jacket Large Forest Green

Walking Jacket HardSided Standard Red
Walking Jacket HardSided Standard Blue
Walking Jacket HardSided Standard Black
Walking Jacket HardSided Standard Purple
Walking Jacket HardSided Standard Forest Green